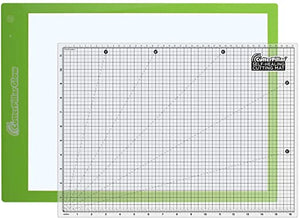 CutterPillar Glow - Ultra
 **CURBSIDE PICKUP ONLY, otherwise additional shipping charges will apply. DOES NOT QUALIFY FOR FREE SHIPPING.**
See your projects in a whole new light!
A beautifully illuminated light tablet for all your crafting projects, this advanced LED technology offers crafters, artists, and creators alike a new way to see and engage with a project. This brilliantly-lit work surface illuminates your medium with 3 different levels of light.  The Glow Premium comes standard with a non-slip, self-healing cutting mat and includes an internal, rechargeable battery to give you 3-4 hours of cord-less light.  When you need light for your project without the hassle of outlets and plugs, Glow Ultra is the light board for you!
Lighted area approx 17" x 24"
Board approx 19" x 26"
---
We Also Recommend