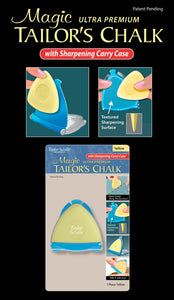 Ultra Premium Tailor's Chalk-Yellow
   This Ultra Premium quality Tailor's Chalk is perfect for your needs. It marks sharp, precise lines and comes with a Textured sharpening surface to sharpen the chalk. It comes in a designer case which can be used as work and carry case.
   Exclusively from Taylor Seville Originals-The Ultra Premium Tailor's Chalk is manufactured by Taylor Seville Originals, an established and innovative sewing and crafting company committed to providing fine quality sewing, and quilting supplies.
---
We Also Recommend