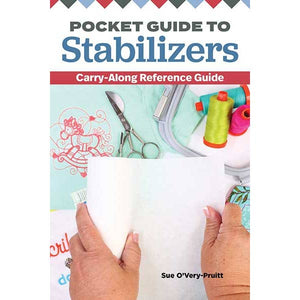 Pocket Guide to Stabilizers by Sue O'Very-Pruitt
Learn everything you need to know about stabilizers!
Whether you're working with woven or sheer fabrics, correctly choose which stabilizer you need and learn how to best use it with this resourceful pocket-sized book, Pocket Guide to Stabilizers.
Containing over 50 pages of helpful information on types of fabrics, stabilizers, how to properly hoop each fabric, and so much more, you won't want to start another project without this guide.
Take it with you to the store so you get the right stabilizer every time, resulting in a finished product you'll love!
---
We Also Recommend