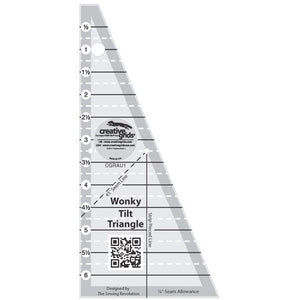 Creative Grids Non Slip Wonky Tilt Triangle Ruler


The Wonky Tilt Triangle is a companion to the Wonky Trim Square (#CGRAU2).
Skew a square up to 6in by sewing wonky triangles to each side. Tilt the blocks or cut triangles from strips for more design options.Place (#CGRAU2) Wonky Square on the seams to trim to size.
---
We Also Recommend